Written by Ashley C Neyra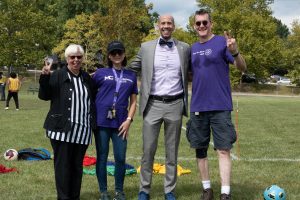 Montgomery College held its 14th annual Soccer for Peace event on Sept. 19 at Montgomery College-Germantown. Continuing a tradition that owes many thanks to a long-time Germantown faculty member.
The event attracted roughly over 100 guests including students, staff, and faculty in a friendly game of pick-up soccer. Alongside, pizza was being served, and games if soccer wasn't your thing. The event brought the community closer from all four corners of the world with the most universal sport of them all, soccer.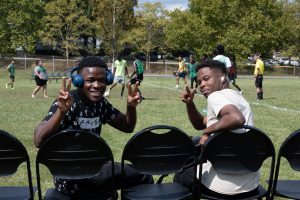 The event has been an ongoing tradition on the Germantown campus. In 2009 the Peace and Justice Committee of Montgomery College pitched the idea of Soccer for Peace to all three of Montgomery College campuses; both Rockville and Takoma Park/ Silver Spring rejected the idea of the event. Leaving Germantown Professor Sally McClean to take an interest in holding the event at the Germantown campus. 
Professor McClean unfortunately lost her husband in 2007, taking this event to honor his memory. Her late husband had also been a Math Professor at Montgomery College for several years before his passing. In addition to her being a soccer mom and seeing how much her children had enjoyed playing the sport, the answer became simple as to what she wanted to do. Alongside David Sowards, Sally McClean was about to bring Soccer to Peace to  Montgomery College at Germantown, MD. 
The event's purpose was to unite us regardless of age, color, or ethnicity.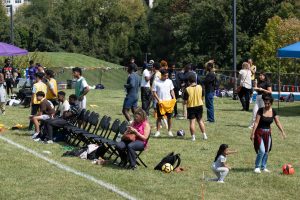 Throughout the past years several students, staff, and faculty have participated in the 20-minute pick-up games of soccer. Even the Senior Vice President for Academic Affairs Sanjay Rai served as an honorary goalie. At some points, we hosted the women's and men's soccer teams from Rockville and had our own baseball team participate in those games!
"It definitely brought the community together, not just students but even our teachers!" – Alejandro F
This year we saw several countries being represented globally!
President Dr. Jermaine Williams gave us a warm welcoming speech to this year's Soccer for Peace. He later introduced himself to students and staff, enjoying the warm sunny day. 
The beauty of soccer is that it is a sport everyone understands and everyone can be a part of. As you walked around you would see how total strangers would start passing the ball together and showing off cool tricks without ever having to say a word. They were having fun, connecting, and making new friends which was ultimately the goal (no pun intended) of the event.
"It was a lot of fun! I got to play against people I've never met before"- Noah A
If soccer wasn't your thing, no worries! They had serving food including amazing frozen popsicles, prizes, writing competitions, and even other small games you could play.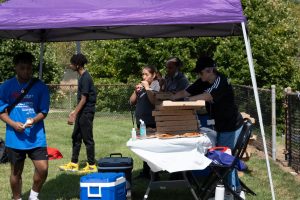 What will happen to soccer for peace in the future?
Professor McClean went on to explain how Proffessot Sowards and herself were upholding the event by themselves. She expects to retire soon but hopes someone will carry on soccer for peace for future Montgomery College students and staff to enjoy. 
The origins of soccer for peace were all created by the Peace and Justice Committee which unfortunately had a falling out. In the world we live in now students and staff would benefit from having an organization like Peace and Justice Committee. This is why Professor McClean might just be on a mission to bring this much-needed commitment back to life at Montgomery College before her retirement. 
.