Written by Yesenia Pineda
"Deja una luz pesta para mi. Te quiero." – Luz Noceda, The Owl House.
When I look upon my time with Montgomery College, I'm looking back on both good and bad times with everything in between. Yet, when I look upon my time from editor/writer to Editor In Chief I'm looking at memories that brought me to the point I'm at now.
Like any other student, I was looking at going to a four year institute for my heavy interest in both art and writing. Sadly, I didn't have the numbers nor did I want to end up in debt that would walk with me even after my final breath. Even if I deeply wanted it and yearned for the chance to go to my former favorite art school, my odds were stacked against me even with a strong GPA. 
That was until my sister sat me down and talked with me about the chances MC could also support me, especially with credits that would quite literally transfer anywhere. Although it wasn't my plan, I was happy to go to a school and fight for my chance to shine brighter without the crippling debt (or anxiety of driving into Baltimore) yet everything changed when I came across a little tweet asking for people who were interested in being in the Germantown newspaper, The Globe. 
It's with all fairness that I say this, the newspaper and the ability to write about anything (from entertainment to newsworthy articles relating to student body opinions) got me through one of the most difficult moments I have ever experienced. I got to reignite my passion for doing newspaper articles after coming from my High school newspaper (Watkins Mill High School The Current, shout out to Mrs. Confino and her new book!) to the new tutelage of Professional Mitchell Tropin. It's from that point that I got inspired to branch out into new areas to capture my audience's attention. 
Alongside Professor Tropin and former Editor In Chief Aisha Sowe, I got to expand myself in terms of writing and editing articles that were more than just an interest, the articles were my motivation to bring more people along. Many of my writing endeavors came from that passion to try something new and the courage to do so via rising trends and new friends.
Spanning from 2020 to now (2023), I grew into someone that wouldn't cave after new challenges and branching into other platforms. Having met and hung out with my new staff and surrounding newspapers, I'm happy to say that I've come into a really happy time in my life with those I deeply respect and admire. 
That is to say I wouldn't have achieved this stage in life without a few individuals such as Professor Tropin, my former editor in chief Aisha Sowe, my heir and rising editor in chief Ashley Neyra, my staffers, my parents and siblings plus my four legged son, Leo while diving into the newspaper.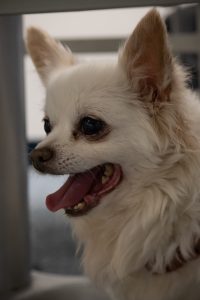 (Photo credits to Ashley Neyra)
While those are few individuals I have personally named, there's one individual who has not only pushed me through my lowest point of depths to my highest of high, they have been my rock ever since I turned nineteen and flourished into the person I am today with a booming willingness to try anything with courage. 
It's because of the love this person has for me and vice versa that I've pushed and pushed to the point of making the dean's list twice back to back but to also revisit my first ever dream of traveling abroad and studying. That's right, I'm traveling abroad and studying abroad once I'm officially transferred out of MC with my first stop being New Zealand. 
This newspaper and the people inside of it have been one of my most deepest and passionate aspects about being a student here at MC along with writing about things I see happening all around me. Now that I reach the end point of my time here and The Globe it feels bittersweet because the faces I grew so used to seeing will now become a vital memory in my core as I make my way up. 
While saying goodbye is a bitter aspect for me, the sweet part is that I banded together with other students and faculty members to make the Germantown newspaper what it is today. I'm proud to say that my rising Editor In Chief has all the amazing qualities and materials she needs to push The Globe into something better. I'm beyond proud of the fact that rising editors and writers all have their own style of presenting stories whether it be articles, TikTok, podcast episodes or reels they all brought together their own flavor to the soup.
I'm proud to say that I've been a raptor for a good chunk of time and an editor in chief that strove to make the newspaper something more each time around. But, I'm so happy to say that I have one of the best bunch of successors I have ever known.
I'll miss this newspaper without a doubt in my mind, but I'll always be around to see its growth and success in the endeavors of reporting campus news and many other aspects. Without a doubt, I'm happy to say that I gave my all when it came to this newspaper and that it gave it's all to me twice as hard. 
Until the next time we meet, in a new place, perhaps in New Zealand's newspapers but I'll be around.