Written by Yesenia Pineda
Shows are the lifeblood of streaming networks, from shows to movies and everything in between viewer impact is the tie breaker.
When in doubt, we all have that one favorite show that simply is binge worthy but nothing tanks a fandom harder than it being canceled on your favorite platform. If you have Netflix, HBOMax, Disney Plus, Amazon Prime, Hulu or any other streaming service you're probably already aware that many shows after one or two seasons have certainly been shelved, placed on hiatus or tragically canceled. 
Shows such as 
The Owl House (Canceled after season two however will officially cut ties after season three episode three airing April 9th) 

BoJack Horseman (Canceled January 31st 2020, as season six concluded the journey of Bojack)

Gentefied (Canceled after the critically acclaimed Latino series failed to make an impression with Netflix, Only had two season)

Tuca & Bertie (Adult Swim canceled following season three)

Inside Job (Canceled via netflix executives despite renewal for season two) 

Infinity Train (Passed from Cartoon Network to HBOMax due to not having a child entry point and being removed from HBO in August 2022)

Mao Mao : Heroes of Pure Heart (Canceled in July 2020, and since been removed from the HBO streaming service due to Warner Brothers Discovery merger)

Craig Of The Creek (Season five was cut into two portions in October 2022 however was canceled due to a merger)

Titans (Currently finishing up it's final season (fourth) with HBOMax and cancelation after the finale)

Dead End: Paranormal Park (Canceled after season two however will receive a proper ending with a final third season)

Warrior Nun (Canceled based on data shared by the show runners that showed more views for season one than season two)
Are few of many shows that these platforms have canceled due to "low viewer ratings" and not appearing in the top ten, twenty or thirties of shows based on regional charts of viewership or a viewer meter.
So what is the viewer meter and how does it affect my region's views?
The viewer meter is a tracking metric system that calculates how long a person has viewed a series over the course of its seasons and episodes. It starts once a person hits the two minute mark of the very first episode of the very first season, which is why it stays on "recently play" in your homepage for streaming services. Now, that being said, many streaming services base much of what we see in our homepage upon personalized recommendations given to us by our region's  most viewed list. 
If you use Netflix you're probably familiar with the little banners that pop up with recommendations for you or suggested for you.
"Whenever you access the Netflix service, our recommendations system strives to help you find a show or movie to enjoy with minimal effort. We estimate the likelihood that you will watch a particular title in our catalog based on a number of factors including: 
Your interaction with our service (such as your viewing history and how you rated other titles),

Other members with similar taste and preferences on our service, and 

Information about the titles, such as genre, categories, actors, release year, etc."
(For more information on Netflix recommendation, visit this link here) 
Much of this also relates to how often those in your area watch the show, how long they watch it, when they watch and the devices used to stream the content. And much of this is similar to  HBOMax, Disney Plus, Amazon Prime, Hulu or any other streaming service available to us. However, as it greatly benefits the services it almost always depends on what your region voted for, streamed, and viewed post opening and credit scenes because many of these factors are based on land locked sources. 
As often as one streams a show or a movie, many of these streaming services keep trackers of how many times someone sees the content and how often, however, that is to say that shows and movies that aren't so streamed often get the pointy end of things.  When shows, movies and everything in between doesn't meet a quota or make it to the top ten, twenty, or thirties in streaming that show is cut from the program all together which typically is after one or two seasons into the storyline. 
Now, when a streaming service cuts this program from its category it's often based on viewer appeal and the higher ups (aka the central board of the streaming service and not the creator of the show). 
For example, Netflix recently cut 'Inside Job' from its platform despite having a renewal for season two which left the creator, Shion Takeuchi, "heartbroken" and despite it not being a personal choice to cancel, Netflix had the ultimate say as to why it was pulled.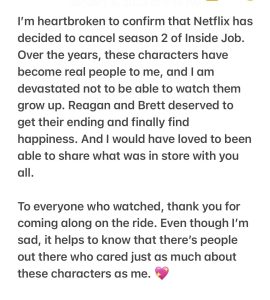 (Takeuchi announcement of Inside Job's cancellation via Twitter, link to original tweet here)
(For more information regarding Inside Job cancellation visit Variety article here)
Along with Takeuchi canceled show, Disney Plus has been removed and canceled Dana Terrace show "Owl House" after season two although, it is officially cutting ties after season three episode three (albeit a very short third season) due to not fitting the Disney brand and not having the appeal of the higher ups of the Disney name. 
Along with Takeuchi and Terrace, both of these creators worked on the popular show "Gravity Falls" which ended after a very brief two seasons which creator, Alex Hirsch, intended for after posting to Tumblr. So when it comes to a show being canceled much of it relies on the higher ups of the streaming services versus when a director/creator wants the show to end according to the timeline and progression. 
So why is this such a bad turn for streaming services and why such cuts often lead to viewers unsubscribing?
While many of these shows don't make the cut for top tens, twenties, or thirties for the viewer meter are often the ones that determine if a show is pulled after one or two seasons. However, some shows tend to rise to popularity after being pulled which leads many viewers to seek other alternatives to view the show entirely. 
With that being said, such alternatives are often more used than the streaming services we use today, now with the rise of many cut shows many viewers are canceling subscriptions in favor of alternatives that have the full seasons up until cancellation. 
With canceling shows and rising use of alternatives more and more subscribers have looked elsewhere to watch and enjoy the shows they love so dearly. Additionally, the fandoms that surround these shows, use fanfiction, art, edits, cosplays and merch to connect with others who share the same passion as they do. 
By removing these vast genre ranging shows, streaming services are beginning to lose touch with not one group of viewers but all. While one group can favor comedy over romance, another group of viewers can favor horror over a sitcom yet these shows all encompass many varieties of these elements.