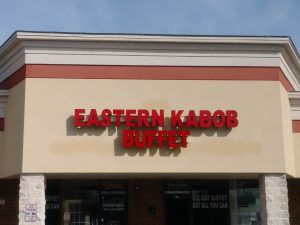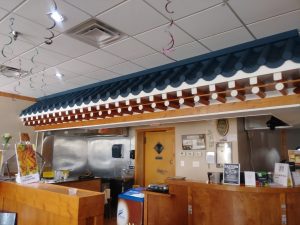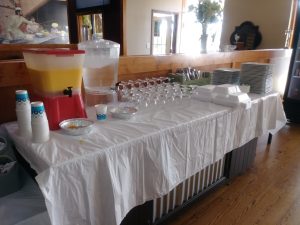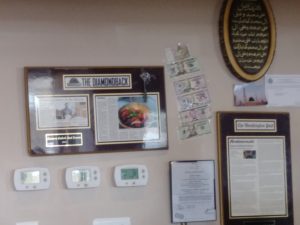 Author: Aisha Sowe
Here in Montgomery County, it is to no surprise of the amount of diversity that is within our community. With various cultures from around the world in our area, were fortunate enough to experience the beauty of it and educate ourselves about people from all walks of life. One way you can find out about another culture is by going out to eat at a restaurant. In this article, I will be highlighting local restaurant, Eastern Kabob & Sweets.
Eastern Kabob & Sweets is a family owned and operated restaurant catering Indian, Pakistani, and Chinese cuisine. It is located in the Germantown Plaza, which is about eight minutes from campus. The restaurant has been serving their customers for over 15 years.
Inside has a nice comforting vibe to it. It almost feels as if you're stepping into a cafe with nice photographs on the walls. When being seated you have the option of ordering off the menu, or choosing from the buffet. And the best: it's all you can eat! Some of the items include chickpeas, naan bread, and tandori chicken.
To start off, there are a wide range of options to pick for appetizers. Samosas being one of them. I'm pretty sure the majority of people have had this before, but if you haven't, it's a triangular folded snack that can include chicken, vegetables, or potatoes inside. Another appetizer to try is Pakora, which are vegetables that are deep fried. It's really good, but it can be spicy for some.
My favorite dish to get is the Eastern Special for Two. Honestly, this is a meal packed for more than two people. The dish includes lamb chops, tandori chicken, chicken tikka, naan bread, and rice with a side of chutney sauce. It's very delicious and it's best to enjoy with family and friends.
From their Chinese menu, I usually get the Chicken 65, which is deep fried chicken flavored with several spices such as ginger and garlic. It's another favorite of mine as it reminds me orange chicken, which is one of my favorite dishes. I recommend eating it with either rice or noodles.
For drinks and desserts, I recommend trying Kheer (rice pudding) and Mango Lassi. I remember when I stopped by at the restaurant and the owners offered both of these dishes for my family. This showed how much the owners care about their customers by giving such offerings. The rice pudding is a nice and sweet dessert to eat after having a heavy meal. The Mango Lassi is a yogurt drink, but mango flavored. Just like the rice pudding, it is also very sweet, so I wouldn't recommend if you're not into sweet treats.
Overall, this restaurant has plenty to offer with it's diverse menu. It's a great way to discover foods and even traditions of a culture. And with the place being family owned, you'll be guaranteed that you'll be treated as such with their compassion towards the customers. If you're looking for a new spot to grab a bite while hanging out with friends and family as well as trying ethnic cuisine, stop by Eastern Kabob & Sweets